The BAC Select In-Service Day Camps in Portland/Bethany area is designed for kids ages 5-12 and occurs on select days that some schools are out from 8 AM – 4 PM. We offer an extended care option (5 PM pickup) for an additional $5 fee a day.
The Bethany Athletic Club Day Camp Counselors have decades of combined experience with kids. All counselors are First-Aid and CPR trained/certified and we ensure that camps maintain proper supervision ratios.
Masks are required to be worn while in the BAC In-Service Day Camps.
BAC Select Inservice Days Camp provides two snacks each day. Campers can bring a lunch, or purchase one from our Bistro for $7. 
Fall Select In-Service Day Camps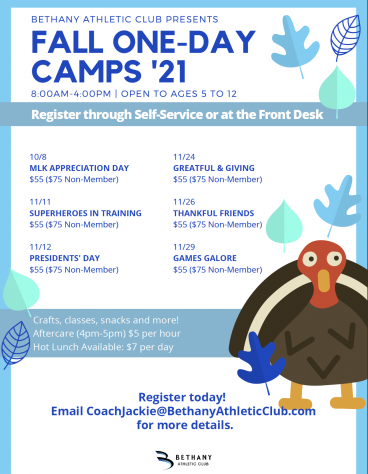 Structured Play & Fun On Select In-service Days!
BAC Select In-Service Day Camps
The 2021/2022 School Year
Get Directions to Bethany Athletic Club
Meet Our Camp Coordinators!
Jackie has been a part of the BAC family for many years and is our Youth Sports Coordinator. She played collegiate basketball and leads our Youth Basketball League during the school year. Jackie loves working with kids and coaching them to be the best they can be while having a blast!
Coach Jackie will be leading BAC Learning Camp with her team of Counselors this Fall. She can be reached directly at CoachJackie@bethanyathleticclub.com.
Meet Camp Coordinator Justyn
Justyn has been involved with Kid Central, Summer Camp, and other youth programs during his three years at Bethany Athletic Club. Born and raised in Oregon, Justyn has experience as a youth basketball coach and referee and received his degree from Portland State University. Fun Fact: He has a minor in American Sign Language!